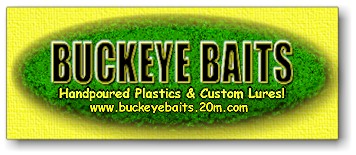 We're not afraid to say it...

Buckeye Baits makes the BEST smallmouth buzzbaits for targeting topwater bronze, bar none!

Available in 1/8 ounce models that are hand-tuned for optimal "chirp" to call the big boys from cover, the smallie buzzbait sports
a thin skirt to allow the bait to be worked on the surface as slowly as possible. With skirts available for clear, stained, or downright
muddy water and tuned blades for maximum fish-calling sound, these buzzbaits are guaranteed to satisfy your hunger for the
frenzied explosion of a topwater smallie strike! Be sure to take a look at our NEW Double Buzzbaits for a bit different presentation!
Also, NEW from Buckeye are bigger 1/4 ounce buzzbaits in both single and double blade models! (See Below)

Whether it's the original Smallie Buzzbait or the new Double Buzzbait, 1/8 or 1/4 ounce, tie one on, make some wake,
and HOLD ON TIGHT!