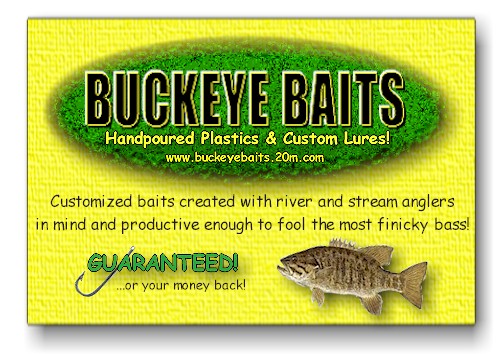 So you're ready to put some Buckeye Baits in your tackle box?
That's good news for you, but bad news for the smallmouth in your favorite hole!


To Order Buckeye Baits
Check out the information listed below for product pricing, shipping rates, and a word about the product guarantee. When you have an idea of what baits you would like to order, email Matt Frondorf at buckeyebaits@fuse.net to get your customized Buckeye Baits order started today! Please include your name, address, an idea of what baits you wish to order and in what quantities/colors. If you are uncertain on colors after viewing the Color Schemes page or would like help selecting the right colorations for your fishery, don't hesitate to email Matt for advice!

Please remember, Buckeye Baits is a small one-man operation with intentions of working individually with our customers to provide the best quality custom baits that we can, so the details of your order, including payment options and shipping will be worked out with you through email shortly after you submit your order.

Thank you for letting Buckeye Baits help serve your fishing needs!



Buckeye Baits Pricing
Smallie Jigs:
1.50/each
Special Value: 14.00/dozen (You save 4.00!)

Smallie Buzzbaits:
4.00/each
Special Value: 10.00/3-Pack (You Save 2.00!)

Double Buzzbaits:
4.50/each
Special Value: 11.00/3-Pack (You Save 2.50!)

Spinnerbaits:
4.00/each
Special Value: 10.00/3-Pack (You Save 2.00!)

Soft Jerk Baits:
3.00/10-Pack

Critters:
3.00/10-Pack

Crawdads:
2.50/10-Pack

Large Jig Trailers:
2.50/10-Pack

Small Jig Trailers:
2.25/10-Pack

Split Tail Trailers:
2.00/10-Pack

Reapers:
2.50/10-Pack



Shipping Charges
Order total:
00.00 - 10.00.....2.00
10.01 - 15.00.....4.00
15.01 - 20.00.....5.00
20.01 - 30.00.....6.00
30.01+..............7.50



Warranty Information
I guarantee my products to satisfy the most discriminating angler. If for any reason you are not satisfied with your purchase just return it to me within two weeks. I will be
happy to substiute an item or refund your money (less shipping), whichever you prefer.
-Matt Frondorf