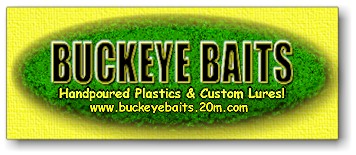 Durable and lifelike handpours with custom colors...

At Buckeye Baits, we don't just feel certain that you'll love the action, color, and productivity of our handpoured plastic baits...we guarantee it!

With the smaller scale made-to-order nature of Buckeye Baits, we will work with you as much as we can to use customized colors and glitter options that you request to better match the forage base in your particular river, stream, or lake. Crayfish in your creek tend to have a purple hue to them? No problem! We'll add the right amount of purple glitter to a craw bait and you'll have a customized fish-catching weapon in your tackle box from Buckeye Baits! They're built to order, made to last, and they CATCH FISH!

For a list of available colors, check out the Color Schemes page.